Product Description
Product Specification
Reviews (24)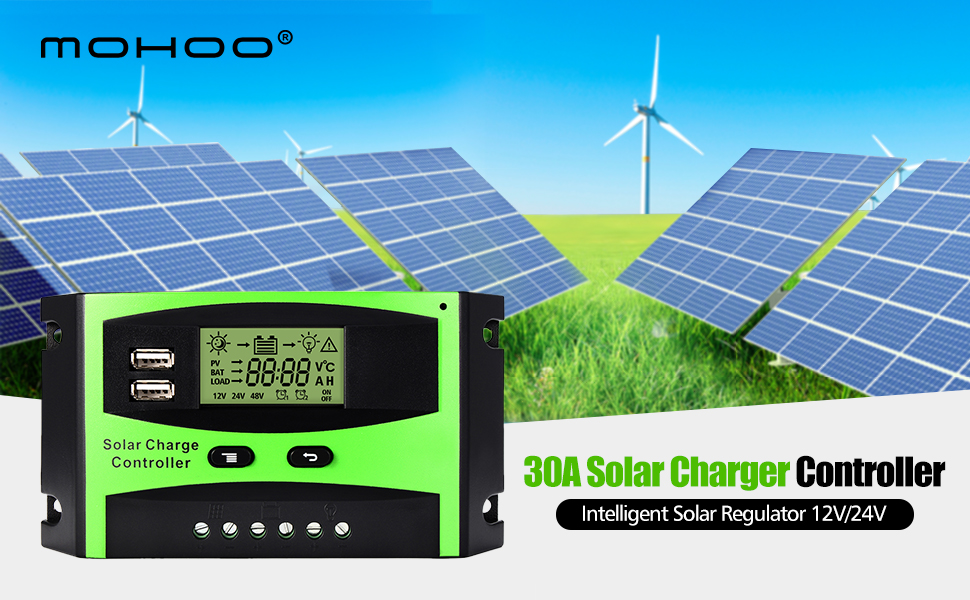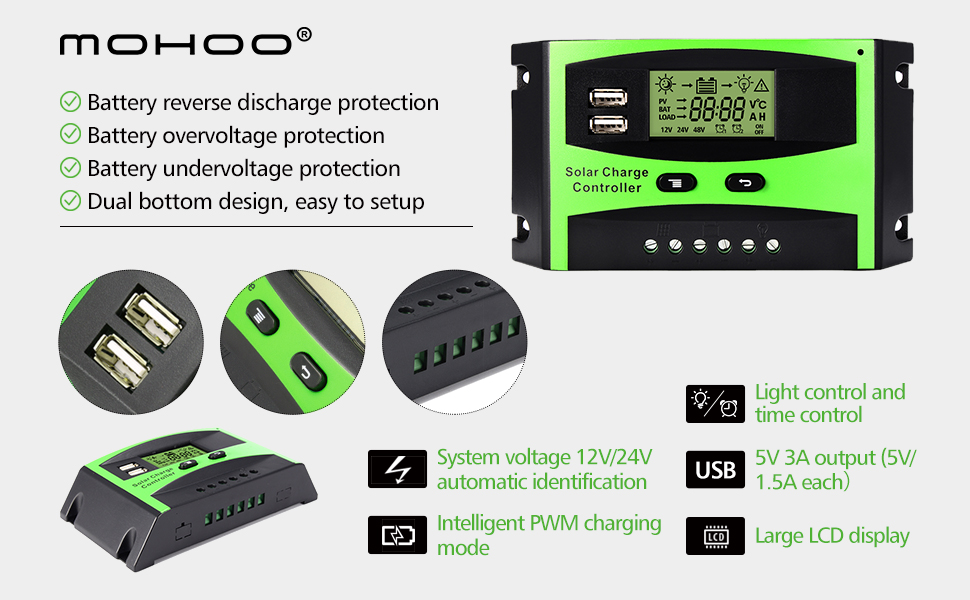 Model:BLS-30A
Size:
(1)Dimensions: 168 * 42 * 92mm
(2)Weight:320g
Function:
1.Large LCD display
2.Support light control and time control
3.Dual USB 5V 3A output(5V/1.5A each)
4.System voltage 12V/24V automatic identification
5.Intelligent PWM charging mode
6.Battery reverse discharge protection
7.Battery overvoltage protection
8.Battery undervoltage protection
9.Dual bottom design, easy to setup
Specification:
(1)Rated charging current:30A
(2)Rated load current:30A
(3)Working voltage:12V/24V auto
(4)Float charging voltage:13.8V/27.6V(Adjustable)
(5)Undervoltage protection:10.7V/21.4V (Adjustable)
(6)Over voltage protection:16.5V/33V
(7)Low voltage recovery:12.6V/25.2V (Adjustable)
(8)Solar panel voltage:≤50V
(9)Boost voltage:14.4V/28.8V
(10)USB Output:5V/1.5A each
(11)No-load loss≤10mA
(12)Waterproof:IP32
(13)Short circuit or overload (1.25 times rated current in 60 second or short circuit): battery icon flashes, regularly try to restore automatically
(14)Charge Mode: 3 kinds of charge control (directly charge, boost charge, floating charge)
(15)Temperature Compensation: -4mV/Cell/°C
(16)Installation line number: ≤5# AWG(6mm2)
(17)Operating temperature -35 ℃ -60 ℃
(18)Storage temperature -40 ℃ -70 ℃
Using Suggestion:
1. This controller is for 12V/24V. When installing for the first time, please make sure the battery has sufficient voltage so that the controller can recognize the normal battery type.
2. Install the controller to the battery as close as possible to avoid voltage dropping caused by over long wires and affect normal voltage judgment.
3. This controller is only applicable to various lead-acid batteries.Do not use other batteries (including lithium batteries, nickel-metal hydride batteries, etc.).
4. This controller can only use the photovoltaic panel as a charging source. Do not use a DC or other power source as a charging source.
5. The controller will heat up when it is running. Please be careful to install the controller on a flat, well-ventilated place.
Customer Reviews
Average rating:
(24 Reviews)
Write a review
October 19, 2018

Just as described

Got this to replace my last one. Works good and shipped very fast.

October 12, 2018

Must have for auto repair, handyman work or hobbyist

Great for a do it yourselfer. If you do auto repair work or handy work around the house or maybe for hobby applications, you will find yourself needing one of these grommets. And with all the sizes included in the box, there has to be one that will fit the situation.

September 18, 2018

Easy to install & easy to use!

Very good quality solar charger. Easy to install. Easy to use. Love the color! Love the fact this is helping me save so much $$ cutting down on my electric bill. You can't go wrong getting this. Overall completely satisfied & beyond excited in saving $$. Will definitely use this company again.

September 17, 2018

Easy to read the panel

I got this controller as I am new to the solar power panels. I wanted to make sure to protect my battery and lights as I connected this to my RV. Its easy to read the panel and easier to use than the electric box on my RV. Easy to follow instructions.

August 01, 2018

Great Value

Grommets worked as expected.
Load more
Success!Your review was submitted!