Solar Panel 100W 18V Ultra Thin Lightweight Flexible Solar Charger Panels with MC4 Connectors

JPY

16998.00

JPY27999.00

Wholesale Price

Bulk Buy Discount

Order more and enjoy the savings

Add to Wishlist

Get it For Free
Product Description
Product Specification
Reviews (35)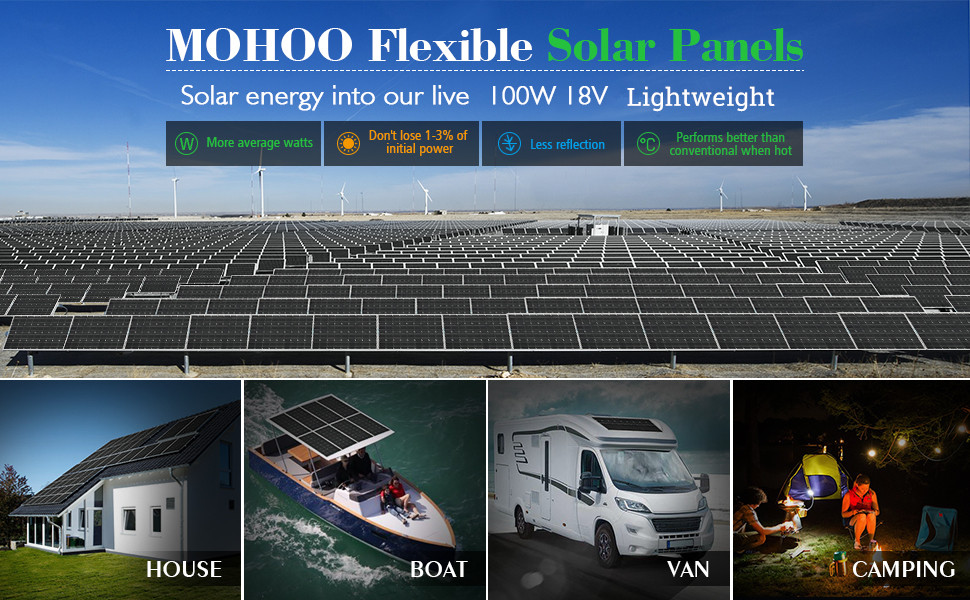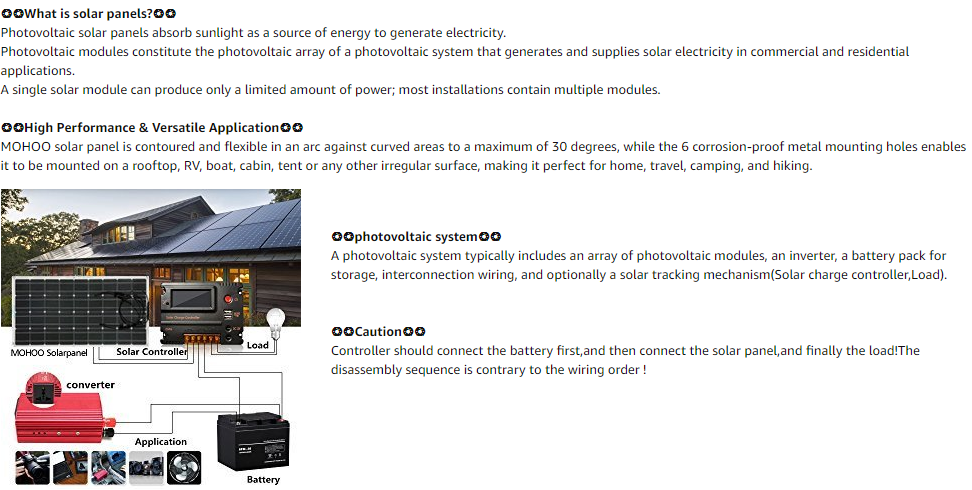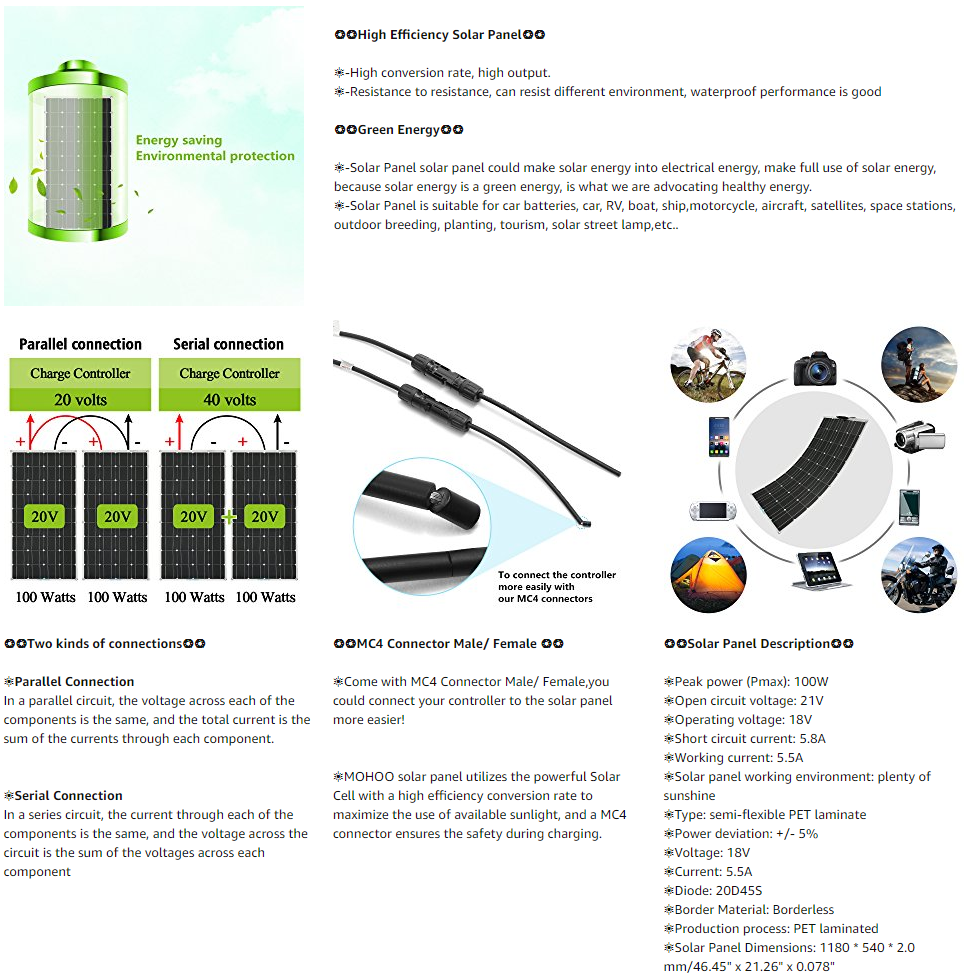 What is solar panels?
Photovoltaic solar panels absorb sunlight as a source of energy to generate electricity.
Photovoltaic modules constitute the photovoltaic array of a photovoltaic system that generates and supplies solar electricity in commercial and residential applications.
A single solar module can produce only a limited amount of power; most installations contain multiple modules.
UPDATED VERSION AND EASY INSTALLATION
The Junction Box is on the front side from Oct.1 2017,and unique frameless design features, 4 metal reinforced mounting holes at each corner for fixing screws and for easy installation. The four corners of the solar panel have 4 black protect cases(just to protect when shipping) and are cut into arcs by the laser, to avoid getting injured. With our MC4 connectors,you could use the wire to connect your solar controller/regulator directly.
HIGH EFFICIENCY
Solar Panel,You will get greater power efficiency even though solar panel is no larger than most traditional model, and an internal blocking diode which prevents reverse current drain at night(Compatibility with 18V and Below Devices)
SUPERIOR DURABILITY
The water resistant semi flexible solar panel is durable and solar panel is ideal for RVs, boats, tight spaces, or crowded areas that are typically off limits for traditional glass and aluminum models
BENDABLE PANEL
Bendable solar panel can be gently flexed to follow a smooth curve of 30 degrees max, and can be mounted on a coach roof, RV, boat, cabin, tent, or any other irregular surface
POWERFUL AND LIGHTWEIGHT
This solar panel packs 100W of power, but it only weighs a mere 5.43lbs(2.46kg including the package), making it easier to transport, hang and remove,also,panels charger with sponge protection

Photovoltaic system
A photovoltaic system typically includes an array of photovoltaic modules, an inverter, a battery pack for storage, interconnection wiring, and optionally a solar tracking mechanism(Solar charge controller,Load).


Green Energy

Solar Panel solar panel could make solar energy into electrical energy, make full use of solar energy, because solar energy is a green energy, is what we are advocating healthy energy.
Solar Panel is suitable for car batteries, car, RV, boat, ship,motorcycle, aircraft, satellites, space stations, outdoor breeding, planting, tourism, solar street lamp,etc..
---
Caution
Controller should connect the battery first,and then connect the solar panel,and finally the load!The disassembly sequence is contrary to the wiring order!
Size :

1050mmx540x2.5mm/41.33\"x21.26\"x0.098\"
Customer Reviews
Average rating:
(35 Reviews)
Write a review
July 24, 2018
July 23, 2018

The solar panel arrived on time for UPS but the ...

The solar panel arrived on time for UPS but the box arrived totally crushed, so much so that the postman asked me to open it. Verify that the was not broken or cracked but to see it badly, after I left it I see that there is no uniformity in the connections of the cells. I still do not know if it works because I don't know how to install I went to the web page of MOHOO to tell me how to install what I need but there is nothin

July 09, 2018

Great value, satisfactory quality

Great value, this panel had a great price. I am using it to top off my camper battery, love it

May 19, 2018

Five Stars

solid panel so far

March 18, 2018

Puts out rated power, amazingly light and flexible

I have 50 watt and 100 watt models of these ultra thin light flexible panels. I also have regular rigid panels from Renogy, so I have experience with both types. These light panels put out the same amount of power as the heavy rigid ones but looking at the construction I'm left to wonder if prolonged exposure might cause problems with delamination but for now they seem to be holding up fine. I'm also wondering how these panels will fare with high winds. If needed I will update the review. I have the 100 watt models permanently mounted on a metal roof next to the rigid ones. The 50 watt panel is perfect for sitting on the hood of my farm truck where it keeps the battery topped off and also powers a security camera. For permanent installation, I would stick with the heavy rigid panels. For anything else, these lightweight panels are the way to go. Oddly enough these light flexible panels aren't any easier to install on a home roof other than being easier to get up a ladder.
Load more
Success!Your review was submitted!